At the Grand Canyon on the 2013 Copper State 1000 tour.
Former owners include Indy winner and racing great, Bobby Rahal, and Jim Farley, Ford President of Global Markets.  It still has it's original engine but it has been pumped up quite a bit. Upgrades include heads, intake, carb, headers, and a bigger radiator.  It has never been apart or restored. It has all the things that are usually missing on Cobras: original leather seats, original (irreplaceable) carpet, top, tonneau, jack, and sidecurtains .
l, Goodyear Power Cushion spare. It also comes with a set of original (not reproduction) Sunburst wheels.
I talked to Lynn Park in early 2005 and told him I was looking for a Cobra. He called me when he heard that this one was available. He had known about the car for a long time before the owner decided to sell it. Lynn and Mike McClusky had completely gone over the car, had it on a lift at McCluskey's and spent about an hour looking for anything wrong. According to Lynn and Mike, who are two of the top experts on Cobras (nick-named Mr. Cobra, Lynn owns ten Cobras and McCluskey built cars for Carroll Shelby), 3246 is unmolested and shows no damage history.  Some upgrades have been done ( carb, radiator, hoses, etc), but the body, motor, transmission, etc are all original. Lynn was impartial and objective and described the car as a great looking and driving car. Knowing that Lynn knows more about Cobras than I (and most everyone else) ever will, I took his word and bought the car from Jim Farley. Lynn was exactly right and I was totally pleased when it got here; it was even better than I expected. It has just over 15,000 miles (19,000 now) and this is backed up by Lynn. It is also consistent with all the paperwork I have and the information in the Shelby registry.
Tons of paperwork that is with the car are shown below: Original 1967 bill of sale to Kiriluk, loan papers, insurance papers, copy of title to Rahal Motorsports, itemized bill for the engine rebuild at McLaren, Autoweek article where Bobby Rahal says that one of his Ford highlights was the day he bought his 427 Cobra, copy of Jim Farley title, etc.
This car is much stronger than you would expect with the original engine. I've hardly ever pushed it hard, but can say that it has tons of torque and is plenty fast.
I can't verify this but will relay it as it was told to me. Dan Mershon, well known classic and muscle car dealer who has owned several Cobras, was at my home when 3346 was sold. Dan asked me about the history of this car. When I told him, he said "Oh, that was Bobby's (Rahal) car! He's my neighbor and I've ridden in that car. It's one of the fastest Cobras I've ridden in"  I told him the McLaren paperwork didn't list any major upgrades. He said its possible that there were modifications that weren't documented, but I can't say for sure. Maybe the mods were done before or after. I knew that it had been rebuilt by McLaren, and I've learned that it has Cobra Jet heads,  some kind of special intake (Sidewinder?) and some tuned headers. I don't stress it, but you can easily feel it has serious power. The good thing is that its docile, runs very smoothly and has never run even on the warm side, even here in the height of the South Carolina summers. I guess a company like McLaren can make a big block produce big HP without much fuss.
Letter from Lynn Park:
Re: CSX 3246
Dear Billy Weaver:
 This will confirm that Mike McCluskey and I have examined the above referenced Cobra and have determined that there is no evidence of any body damage or repair.  Furthermore, it appears as though the body is original.
 In researching prior owners it is clear that the car's mileage is accurate.
 The engine in the car is the original unit, having been rebuilt by Bobby Rahal when he owned the car.  It probably wasn't necessary but was something Bobby Rahal wanted to do since he has resources to do so. 
 Regards,
 Lynn Park
 Letter from Jim Farley, previous owner.
Billy,
Just received your letter. Hope u got the car already, I miss it
tremendously.

Here is what I found. The car was bought new by Alan Kiriluk of
Birmingham, Mi (u have a copy of his title).  Alan's father had died (he
owned a paving company) and left Alan the company and some money. He went
right down to stark hickey ford on the east side of Detroit (my home dealer
when I grew up) and bought the car off the showroom (it had velvet ropes
separating it off). He had the famous Alexander brother's paint the car red
for some reason (they left the 427 logos off the side of the car) - he
didn't like the original paint and went to a candy apple color. I has able
to get Alan's number from his mom from information. He told me all about
the car, u should call him. He had the car for almost 30 yrs, then sold it
to Bobby Rahal who redid it completely (including a repaint to original
red, again with no logo), even had his engine supplier (McLaren) rebuild the motor
for him (u have the registration from Penn and the engine build sheet).
Bobby showed the car and used it occasionally (I have talked to him about
the car, he is a Toyota dealer). He traded the car for an original gt40
that he owns. The car went thru a few hands quickly, then on to me. I spent
three yrs debugging everything. From cooling (aluminum radiator), suspension, etc.

That's the summary version.

Jim
October – November 05
Lynn Park re-installed the 427 Cobra emblems in the correct location, changed the spark plug wires to black.
Mason's in Spartanburg, SC, had the Holley carb rebuilt.
Gallaher Restorations of Landrum, SC, did the following: steel brake lines and new correct master cylinders (purchased from Bill Kemper) with Castrol Girling brake fluid, heat shield added between header and master cylinder, installed a cut-off switch on battery, added correct horns (purchased from Bill Kemper), steering rack rebuilt. (Gallaher restored the 289 Cobra that won at Amelia Island in 2005.)
Lots of history and paperwork, original bill of sale and later insurance card show that the Kiriluks owned the car for 30 years. Rahal title, and paperwork showing that McLaren did the engine work.
The last is from an AutoWeek article about Ford's 100th anniversary. They asked Rahal and other prominent car people about their most memorable Ford moments.
Over the years, 3246 has successfully completed three Cobra tours and the Copperstate 1000, all without a single hiccup. Before each trip it was checked and fully serviced.
50th Anniversary Jubilee Tour in Virginia. 3246 in the middle.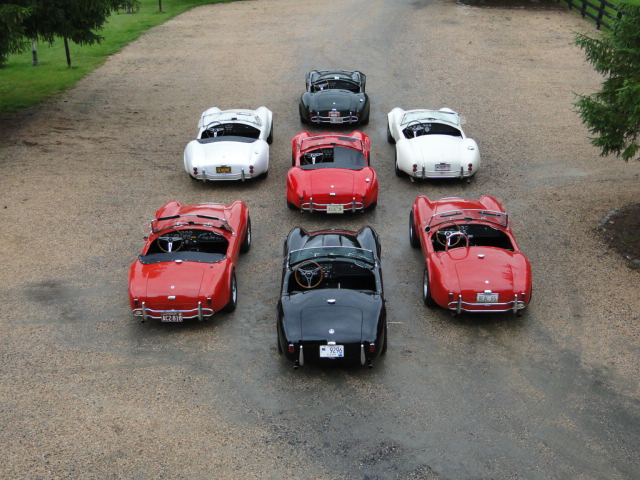 Feature Article from Hemmings Muscle Machines
January, 2014 – Terry Shea
http://www.hemmings.com/mus/stories/2014/01/01/hmn_feature2.html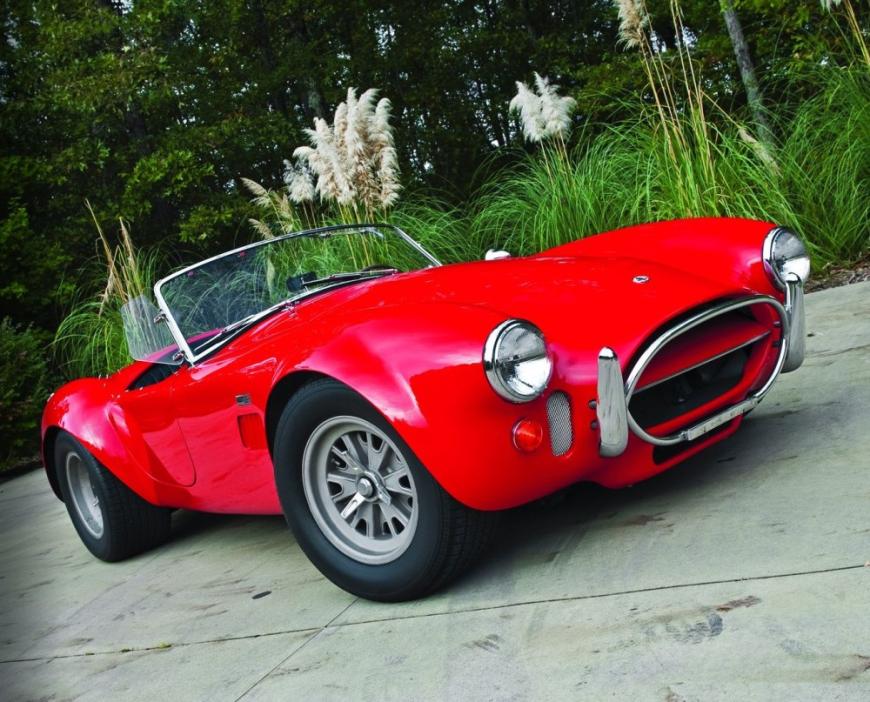 Icon. The word is perhaps overused. So much so that we had to look it up lest we lose sight of what it really means.
Among the definitions: An object of uncritical devotion; a sign whose form suggests its meaning; a symbol. Synonyms include hero and idol. There might as well be a picture of a Shelby 427 Cobra right there on the pages of Merriam-Webster. Surely, its form suggests a whole lot of performance–something the Cobra delivers in spades.
When the 427 Cobra debuted in 1965, its 12-second quarter-mile times and zero-to-60 MPH sprint in the low four-second range re-wrote the production-car record books and kept it that way for nearly 30 years. By getting the magazines talking about the 427's zero-to-100-MPH-to-zero time in the mid-14s, Shelby helped establish a new performance benchmark that would be unbeatable for decades. It is no exaggeration to say that the 427 Cobra set the bar for performance upon which all subsequent cars were measured.
The 427 Cobra came about after the Corvette boys trounced Shelby at the 1963 season-ending Nassau Speed Week in the Bahamas. Though the 289-powered Cobras (and related Daytona coupes) still had plenty of racing glory in the years to come, they were simply outgunned by the lightweight, 485-hp, 377-cu.in.-powered Corvette Grand Sports. Shelby Competition Director (and principal team driver) Ken Miles began experimenting with a 427-cu.in. engine in a highly modified leaf-spring 289, including racing it at Sebring in 1964. The result was a brutally fast–and loud–but ill-handling car. Still, it was clear to everyone at Shelby and Ford that a big-block Cobra was the next logical step if they wanted to stay competitive.
Shelby engineers quickly realized that the 289 Cobra's chassis was way out of its league with a powerful Ford FE engine block shoved between the frame rails. A major redesign was in order. Two Ford suspension engineers chipped in by working nights and weekends, using Ford's powerful computers–tools then unavailable to a small operation like Shelby American–to develop the new chassis. Though the wheelbase remained at 90 inches (to accommodate AC's tooling for the bodies), the uprated chassis ended up seven inches wider overall compared to the 289's ladder frame. The 427's backbone also used four-inch main chassis tubes versus the 289's three-inchers. And the big-block engine required more heat dissipation and thus a wider grille opening.
Shelby's plan to build 100 competition 427s to meet FIA homologation met the cold, hard reality of trying to sell 100 such cars. Just 23 were ultimately built, including those kept by Shelby for competition. Shelby American modified a further 29 nearly complete competition models into semi-competition versions, known as the S/C, which featured side pipes and a hood scoop, along with the extremely potent, 485-hp engine. Shelby then started building street versions, minus the hood scoop and the side pipes, but with a dual-quad engine, though with slightly lower compression.
But the 427 engine proved costly and time consuming to build. For the second 100 or so street cars, Ford offered Shelby the far less expensive 428 Police Interceptor engine with a single four-barrel carburetor. While Ford rated the engine at 345 hp in the Thunderbird, Shelby rated it at 355 hp. It was a far cry from the competition 427's 480- to 485-hp and even the dual-quad street 427's 425-hp rating. But it still offered a healthy wallop of torque–420-lbs.ft. at 3,200 RPM. For the last 60 or so 427 Cobras, Shelby again installed the 427-cu.in. engine.
Many owners of 428 cars dipped into the Shelby parts catalog and opted for upgraded manifolds and carburetors, such as the Shelby Sidewinder pictured here, with its offset carburetor position topped by a Holley four barrel. It often didn't stop there, with plenty of legit Cobras getting the side pipe and hood scoop treatment that made the S/C so iconic.
Owned by Billy Weaver, a motorcycle and automobile dealer from Greenville, South Carolina, the 427 Cobra pictured here still has the same engine it was delivered with, though a previous owner had it rebuilt to factory specs in 2002. Of course, it also features that upgraded intake and carburetor. Billy owns other Cobras, including a narrow-hip 427 and a highly original 289, along with a small collection of other vintage cars. But of all of the very special vehicles in his garage, the 428-powered Cobra gets the most use–and it's easy to understand why.
"It's just been so dependable," Billy says. "It runs cool. It never fails. Nothing ever breaks. It's just been a great car since I got it. I did a few things to it, just to get it sorted out." With his son Alexander, he has already done the four-day Copperstate 1000 that crisscrosses Arizona and has plans to take the Cobra there again. "We did the whole Copperstate last year," recalls Billy. "The first day out, we were going through the desert and the temperature was about 100 degrees, which probably put us at 120 or 130 inside that car and two days later it was 30 degrees and snowflakes were coming down. We never put the top up. We kept putting more clothes on. I would never put the top up unless it was just pouring down rain and that would be just to protect the leather seats. It's just not made to be driven with the top up."
Even with the top up, the rudimentary roadster is hardly weatherproof. It has almost no creature comforts beyond some minimal padding on the seats, and virtually no crash protection beyond lap belts. Even the rough-and-tumble Hemi cars had doors with actual interior panels thicker than the Cobra's millimeter-and-change of aluminum. They had roll-up windows, too, and a top that actually kept out the weather and didn't require a contractor to raise and a chiropractor to help you get in the car once it was up.
With no power assist on the steering or brakes, the 427 Cobra is a burly car, with not even a roll bar or roll hoops above the seats, which only come up slightly higher than mid-back. This might be the last true, unfiltered automotive experience–the swan song of the unrestricted automotive age. Play the fool in this car and it will bite you hard.
Our photo session complete and with dusk rapidly turning to full-on night, Billy takes me out for a few miles. Billy spins the tires effortlessly in his long driveway, and while I don't participate in such tomfoolery, boy, do I want to. The crisp fall air is punctuated by the unmistakable roar of the worked-over 428. While the sound is pure, guttural and distinctive, it's not as overly loud as a car with side pipes would be. Instead, given the Cobra's no-frills state and lack of any acoustic insulation at all, the sound is simply everywhere. And, mighty almighty, did it go like stink.
Billy then gave us the opportunity to drive CSX3246. Despite what the job may look like from the outside, opportunities to drive original big-block Cobras don't come along all that often. To call it an honor would be a fair understatement.
Keys in hand, I find the cockpit snug for driving, but hardly claustrophobic. There is no denying the elemental nature of this beast–so little separates the driver from the mechanical operation at hand. The Toploader four-speed throws, while not overly short, feel connected to something real–and real close. But just beyond the feet, just past the firewall, sits an engine whose enchanting sounds would inspire the most ardent environmentalist. I take my time through the gears the first time through, casually building revs, but never really dipping too deeply into that massive well of torque.
The pure genius of the Cobra might not be its outrageous power-to-weight ratio, but the utter docility of its 428 engine. Meant for full-size Fords, some weighing nearly twice as much as the 2,500-pound Cobra, the engine is tame in town, idling smoothly and never missing a beat or getting too hot. But when the right pedal goes down, the FE's big power comes to life, instantly putting a robust shove into the small of your back as the car accelerates with gusto.
The BF Goodrich radials are not the stickiest tires around, but, with their shaved letters to make them look more authentic, they get the job done. It is a street car first and foremost, after all. Still, stickier rubber would certainly do the car plenty of favors in the handling department as the current treads are no match for the 428.
I find myself eagerly running up and down through second and third gears, punching the throttle for the visceral thrills of hard acceleration and the roar of the 428. With the sun down, the old windshield difficult to see through and the weak headlights not helping much, I am leaning in closer to the glass in an attempt to see better through it.
The fast-ratio, un-boosted steering, though relatively tight when turning, suffers from a bit of play when just heading in a straight line. The wood-rimmed wheel, however, feels just right in the hands, much thinner than today's thick, padded rims. Though I never needed to use the un-assisted brakes at the limit, the Girling four-wheel discs felt progressive, while bringing the car to a halt. Want more braking power? Step harder on the pedal. It's that simple. There seemed to be plenty of braking for the small sports car.
The joy in this 428-powered Cobra is that its potent powerplant remains incredibly forgiving and peacefully subdued around town. Until you really get into the gas, it never calls attention to itself. Of course, the iconic Cobra doesn't need the howl of its engine to get attention.
---
Owner's View 
Like a lot of people, after I first saw a Cobra–I guess I was 13 or 14 years old–the interest never waned.
I remember somebody bought one in the town I lived in when they were new. I just never got them out of my system.
I just think they're magic. I think Cobras were a once-in-a-lifetime thing that came along by accident. This car, just because it's mine, of course, I'm comfortable with it, familiar with it… My son used to say it's like a friendly lion. It's just docile. It's not real loud. It sits there and idles. It doesn't shake up and down or make a lot of noise. But its bite is worse than its bark.
Everybody brags about the value of them going up and they say, "Aren't you glad you've got those Cobras because they just keep getting worth more and more money?" Well, I'm not glad they keep getting worth so much more money. I wish they'd go down so I could buy another one.–Billy Weaver
---