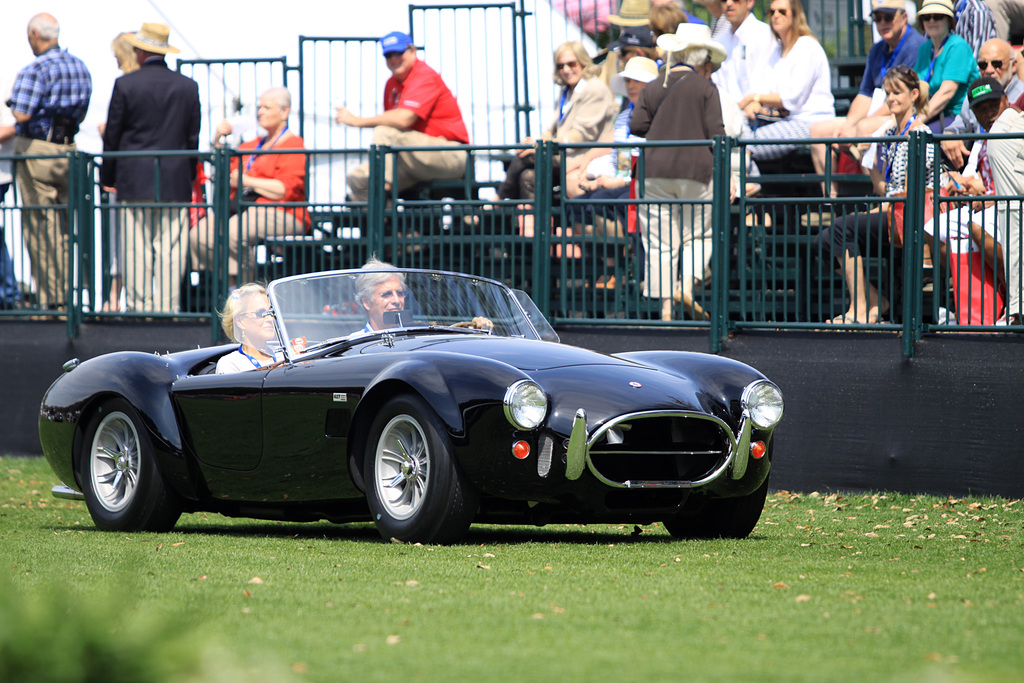 Amelia Island. From Supercars.net
It's back!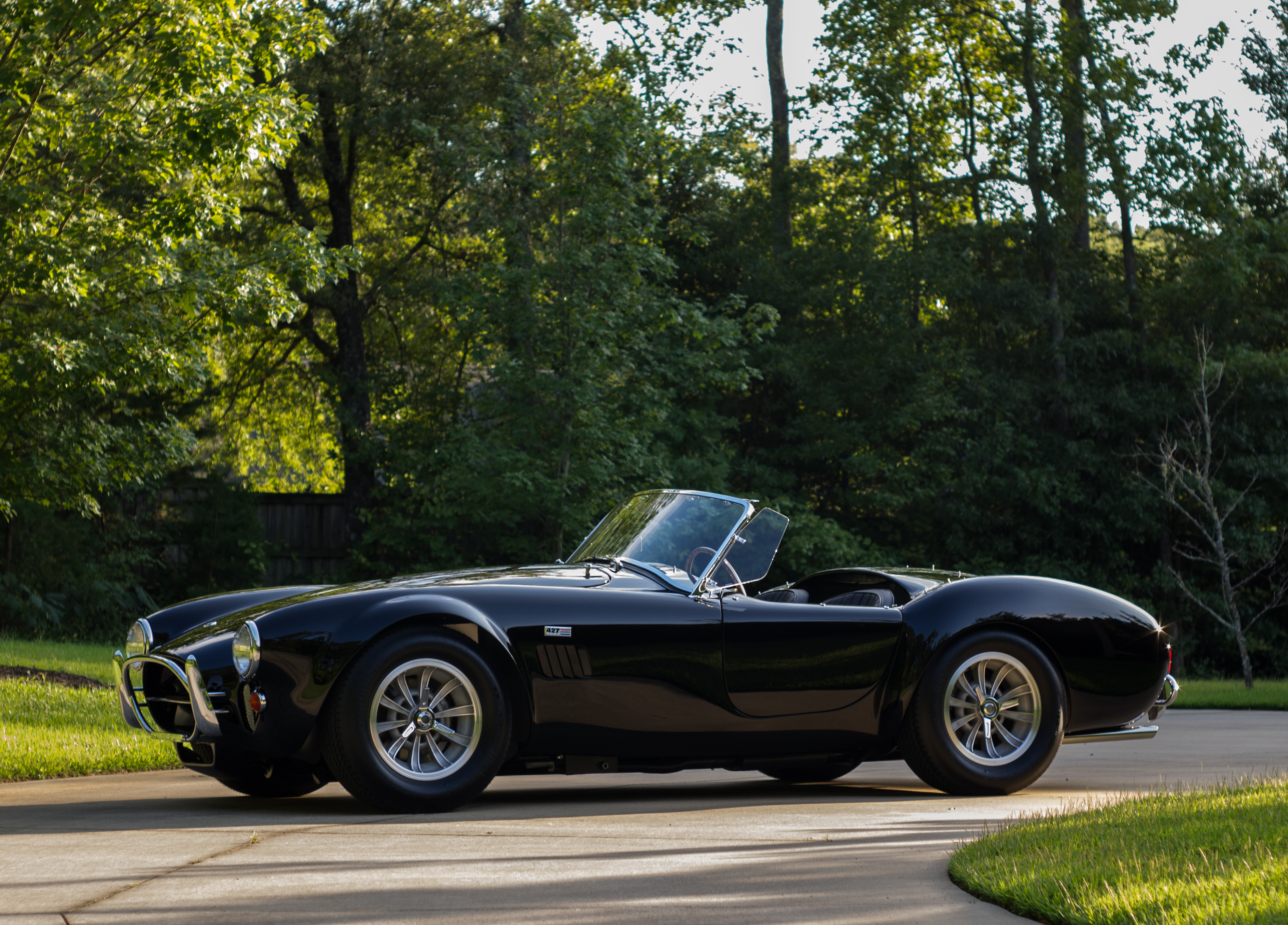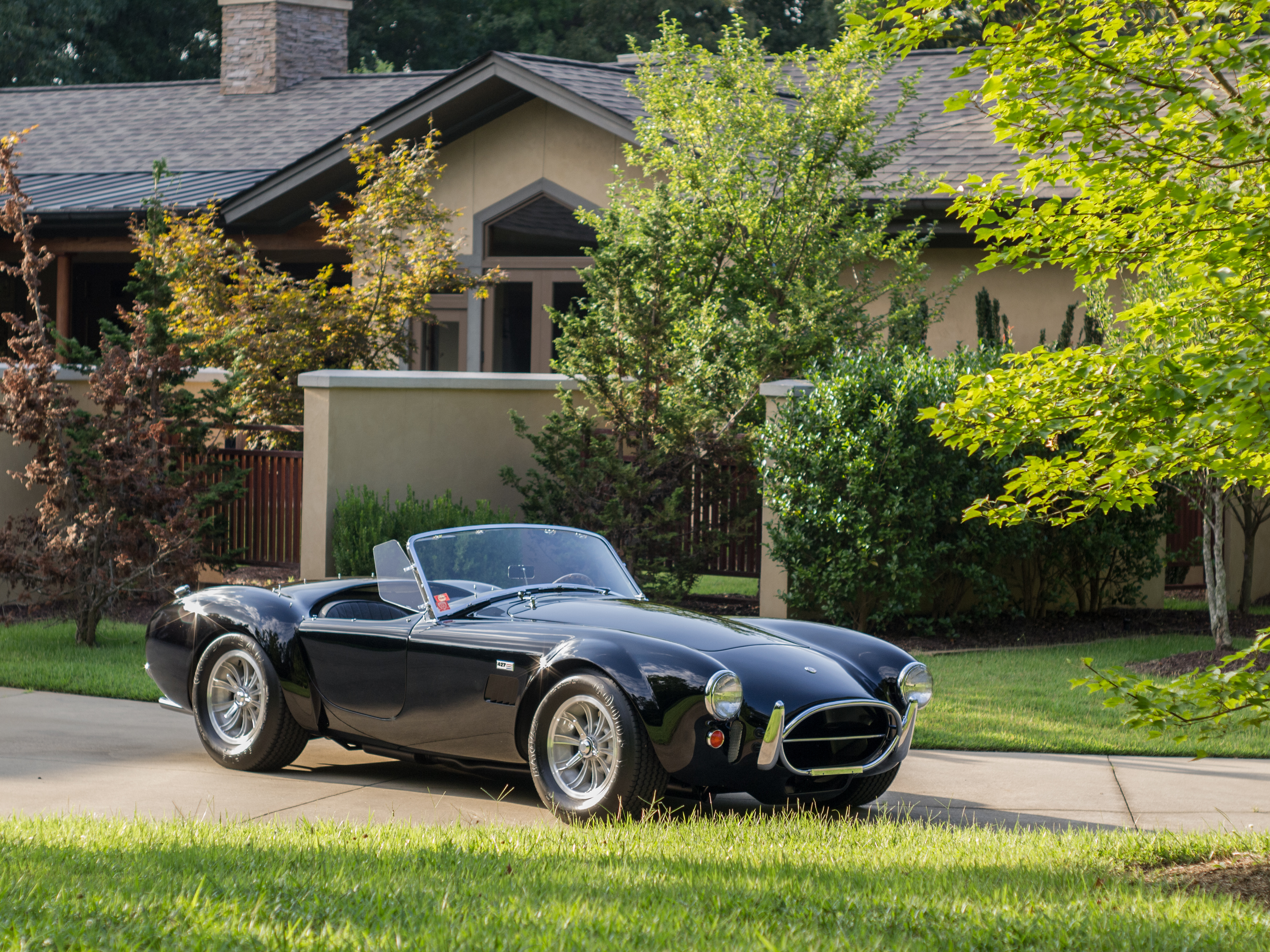 In November of 1965, Carroll Shelby's Hi-Performance Motors sold 3130 to Jack Markell, of Beverly Hills, CA. During his ownership side pipes were added and it was painted red.  In 1970 it was sold to Darrell Bassani (of Bassani exhaust systems), Anaheim, CA, with 20K miles on it. Darrell drove it about four thousand miles then parked it around 1974 with 24K miles. It would sit, hidden out of sight from the Cobra world for the next 36 years.
I always liked the look and rarity of the narrow hip cars and when I learned about this two-owner car that had been sitting for 36 years, I immediately contacted Darrell and made a deal to buy the car.  For it's first trip out of CA, it was shipped to Ford experts Dickie and Matt Dills in GA to bring it back to life. Although it had endured years of benign neglect, we found it had many good qualities. No roll bar, hood scoop, or more importantly in the case of a narrow hip car, no flared fenders were ever added. The numbers are in the correct places. There had been some bodywork on the nose and oil cooler scoop, but the radiator and windshield are still original, so whatever happened wasn't serious. The door fit and all the wheel arches are great, never damaged or changed. The frame was checked on modern equipment in a shop that built frames for the Elliots and was dead on straight. The dash is unmolested. It was gently stripped of it's red paint and changed back to black and back to under-car exhausts. We are making every effort to preserve it and bring it back to the most correct and original condition possible.
The numbers are dated from the fall of 1964, block, carbs, intake, water pump, transmission, etc, – all as they should be for a narrow hip car. Original markings were still on the driveline components and have been saved or replicated just as they came from Shelby. It has all the things a Cobra should have, but are usually missing; five original Sunburst wheels, owner's manual, tool kit, Shelley LJ22 jack and jack handles, grease gun, side curtains, top and top bows, and tonneau. In the trunk is an NOS Goodyear 8.15 spare.
According to the Shelby Registry, six narrow hip cars were painted black. Only fifteen or sixteen of the original 32 cars still have their original rear fender shape, and of these only three are black.
March 15, 2015, CSX3130 was awarded Best in Class in a Sports Car class at the Amelia Island Concours. The class included very nice cars from Lamborghini, Maserati, Aston Martin, Jaguar, Porsche and more.
CSX3130 went on to another owner, my good friends, Lee and Felicia Cross. They showed it at several shows and concours where it consistently won, a first place at the Concours on the Avenue in Carmel, CA, and I think at the Concours of America, and drove it on a couple of Cobra Rallies.  While Lee owned it, he had Roush refresh the engine and some other work done. The engine looks stock and it still runs cool and smoothly at low speeds but it feels like there is a significant increase in horsepower. When time came to make changes to Lee's collection, he graciously offered it back to me. Now it's back in Weaver Garage.
Sam Smith, Editor, Road & Track:  "Beauty doesn't always happen on purpose. From 1962 to 1967, Carroll Shelby built just 998 Cobras, a mere 260 of which were sold with Ford's big-block. Thirty-two 427s were built in "narrow-hip" configuration, with sexier, tighter rear fenders replacing the standard competition-spec flares…..For the cover of our first-ever Design Issue, we wanted to celebrate the near-accidental moment where luck and genius mix to produce something spectacular. If this isn't that, we don't know what is." The car on the cover is Colin Comer's 3134.